A few days ago, one of my favorite girls hit up Amsterdam to come and preform. I wrote about her when she was here back in October.
Ya'll already know who I'm
talking about right?
Miss Chrisette Michele hit up the "Melkweg" in Amsterdam to promote her new mix tape "Audrey Hepburn" and off course to do what she does best… preform.

She has to be one of the most down to earth celebrities in the world I've met so far.






(ok, wait… Nigel Barker and Kat Von D. were pretty fun to talk to too!)

Thanks to one of my favorite photographers who got my girl Augustina and I on the guest list,
we were able to enjoy every moment of her concert.

Chrisette looked cute and sexy dressed up in a French Connection strapless dress
paired with golden heels and a fabulous necklace.
With her tattoos adding some edginess to her total look and a voice to die for,
girlfriend was
ON FIRE!
I was in my zone when she started singing my all time favorite "Goodbye game"
We chitchatted after the show (I HAD to know where that dress was from and take a good look at her fab nails!) for a sec. and I think I almost squeezed the life out of her while giving her a few hug!
I just
LOVE
her voice and who she is as a person!
I left with a "Charades" T-shirt (which is like 10 sizes too BIG, but we all know I'll find a way to rock it to the fullest!) with her signature on it and a big smile on my face.
I tweeted/ Instagramed (I don't know if that's even a word) a picture of use on the way home and got caught off guard and almost had a hart attack, when she re-tweeted and instagramed the picture with a funny capture under it!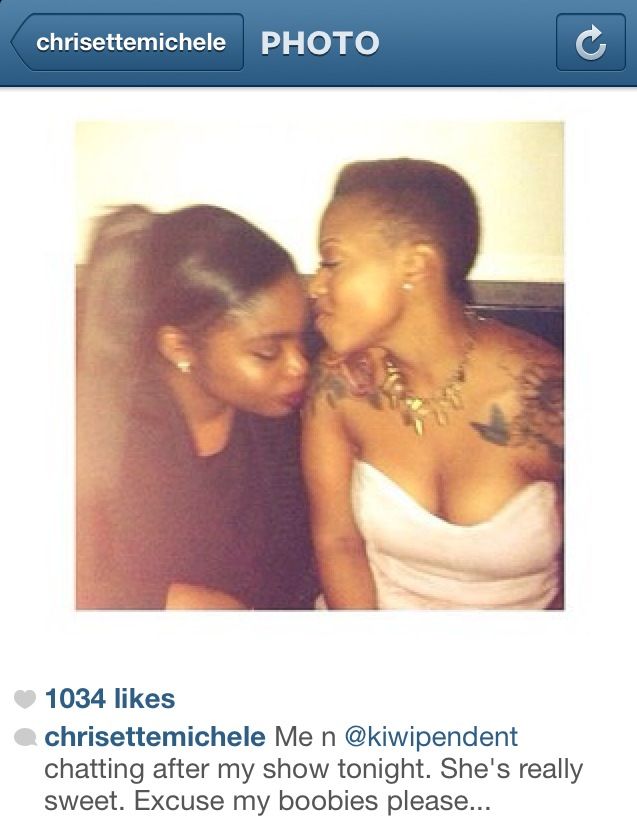 lol!
Can't wait to see her again!
Make sure to cop her new album "Better" which will drop on April 30
th
and don't forget to
follow her on Twitter (
@ChrisetteM
) and on Instagram (
@ChrisetteMichele
)
Quote of the day: "I ain't about that life.com, period!"
*High-res pictures by Zandoka photography